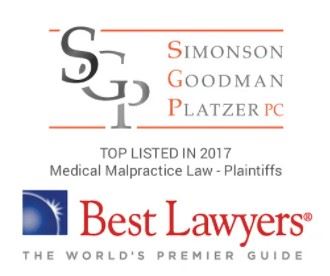 Paul Simonson, a founding partner of Simonson Goodman Platzer PC, was recently selected by his peers for inclusion in The Best Lawyers in America© 2017 in Medical Malpractice Law – Plaintiffs. According to both attorneys and their clients, being included in Best Lawyers is a significant honor.
While winning awards is not new for Paul Simonson (his law firm has achieved top tier U.S. News "Best Law Firms" rankings, and he has been named a Best Lawyer before), this latest recognition is significant, as it represents the continuing esteem of his peers. Attorneys are included in the Best Lawyers list based on confidential evaluations by leading lawyers in the same geographical area and the same practice area on the quality of the legal services they provide.
"I am truly honored to be recognized by my peers as a 'best lawyer,' " says Paul Simonson. "Best Lawyers has published its list for more than 30 years and is generally considered the most reliable, trustworthy source of legal referrals in the U.S., so it's a remarkable honor to be included again."
Simonson views his numerous awards as a testament to his commitment to working for justice for his clients. In more than 40 years of practice, Simonson has always measured the quality of his legal services and success by the results he has achieved for clients who have been seriously injured due to others' errors and negligence.
Together, Simonson, Goodman, and Platzer have successfully represented thousands of personal injury and medical malpractice clients, while Simonson alone has recovered money for his clients in 98% of the cases he has handled, totaling more than $200 million dollars.