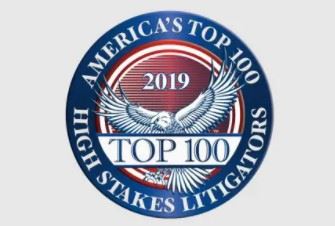 Attorney Paul Simonson, a founding partner of Simonson Goodman Platzer PC, has been selected as a Top High Stakes Litigator for New York City. Awarded to less than one-half percent of litigators in the U.S., the "High Stakes Litigator" designation attests to Simonson's achievements and elite status as one of New York's top trial attorneys.
Having achieved numerous multimillion-dollar awards for his clients, Simonson easily met the criteria for consideration as a "High Stakes Litigator" (i.e., having served as lead counsel in a case with at least $2,000,000 in damages). A competitive, comprehensive multi-phase selection process was then used to identify him as one of the most skilled and exceptional attorneys in New York.
In addition to this recent award, Simonson has also previously been named "Lawyer of the Year" for his work in Medical Malpractice Law – Plaintiffs in New York City as well as "New York Metro Super Lawyer." Recognized for many years by his peers and clients as a top-notch medical malpractice attorney, Simonson has remained humble and grateful for all of his prestigious awards. "I am honored by the recognition and by the opportunities I've had to help so many people throughout New York and New Jersey," he says.
Simonson views this latest honor as recognition of his commitment to pursuing justice for his clients. Throughout his long career, he has always measured his success by the outcome achieved for clients who have been seriously injured because of other people's negligence and mistakes.
"My clients know they can count on me to guide them successfully through the complicated legal process of their medical malpractice cases," Simonson says. His record of recovering money for his clients in 98% of the cases he has handled, totaling hundreds of millions of dollars, clearly attests to this success.